http://www.stylelist.com/blog/2009/02/11/fashion-week-has-an-official-coffee-its-mccafe/#comments
A year ago, I probably would have thought the same thing as the author of the blog post above.  McDonald's + coffee?  Not just coffee, but espresso and lattes and mochas?  I would have assumed that it tastes like the "cappuccino" you get out of the gas station machines.  You know the kind, it's basically sweetened, syrup-y water infused with a drop of "coffee-flavor" substance.
While I have not had any of the hot coffee drinks from McDonald's, I have had their cold ones.  They make a mean iced coffee or (my personal favorite) iced vanilla latte.  Being a slightly picky coffee addict, I was pleasantly surprised at how delicious these drinks were.  And all for a dollar or two cheaper than the big coffee chains (ahem, Starbucks).  I have had their regular black coffee, too, and it is also pretty yummy.  And I read on the McCafe website that they don't charge you for a syrup shot!  I realize it is only 60 cents (at Caribou anyway), but when I get coffee everyday, that adds up to $4.20 every week, or $218.40 each year.
I have no reason to believe that their new hot coffeehouse drinks will be any less scrumptious.  Let's face it, McDonald's is an advertising and research-oriented powerhouse.  They tend to set the trends for the fast-food industry, and other chains are now trying to get their own coffee lines up and running.  Mickey D's is already a step ahead of them, and I am sure that they have done their homework before releasing such a radical hit to the market.
And have you seen the new McDonald's, particularly the "McCafe" portion of them?  They're...nice.  Rich woods and warm tile...no more hard, cold, plastic booths.  Instead of wanting to leave as soon as I sit down so I don't catch some unkown disease from the starkly neutral plastic seat, I actually wouldn't mind staying for longer than 10 minutes.  They even have contemporary lighting: drop down pendant lights and cove lighting that gives off a nice ambiance. (McDonalds?  Ambiance?  Crazy, huh?)  Though evidence of the traditional ketchup red and mustard yellow that characterizes the McDonald's logo can still be seen, it is in a much more tasteful way.  Deeper reds and warmer yellows that warm up the space, instead of causing it to look like a preschool classroom.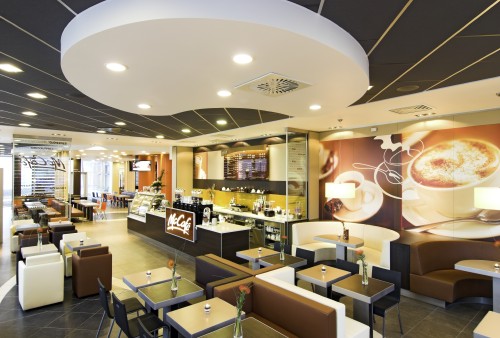 I understand that McDonald's (even McCafe) being the official ANYTHING at fashion week seems a bit...low class.  But this is another evidence of McDonald's genius.  Get the celebrities, the fashion-forward celebrities, drinking their coffee, and oh, what a marketing scheme.  They don't have to do anything but give away free coffee, and the media will do the rest.  It's freaking FASHION WEEK, images of celebrities with a McCafe cup in the hand will be plastered all over the place.
I think it's brilliant, delicious, and that Ms. Wintour is in for a little shock.